The Blended Family
Posted by JOAQUIN LOPER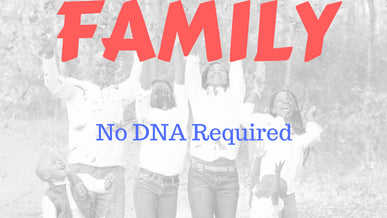 The Blended Family:
Open communication, having Compassion, and making adjustments.
The blended family is a subject that hasn't been explored over the years, but it is one that has been a part of many families for generations. The first blended family I can remember is The Brady Bunch. If you're 30 and above you remember a man and a woman, both with children, meeting, falling in love, getting married and blending their family. If you watched The Brady Bunch, you saw them go through many issues where their children were filled with many emotions as they all worked together to make their family one big ball of joy and harmony. It wasn't easy, but as we watched The Brady Bunch, we were afforded the opportunity to watch two people put their everything into helping their children move from a place of confusion, feeling insufficient, jealousy, and defeat; to understanding their new environment, self-security, admiration, and victory.

So what is happening today in blended families as mother's and father's bridge the gap from the old life to the new life for their children? Are you really listening to the hearts of your children? Are you having compassion for the transition that your children are facing when you, as the adult, decide what's best for the family?

Many times, people rush through making the hard decisions in the life of their children that they miss a great deal of what's going on in their hearts. Many children who are a part of a blended family have compounded emotions that they have no clue how to unpack and resolve. In the midst of all the dysfunction that can go on within blended families, the children are the ones who suffer the most, but no one knows because the children never say anything out of respect or fear. So what's happening during the major transition from the old (what the children have become accustomed to) to the new (what happens now that mom or dad have met someone else)?

As we have journeyed through successfully blending our family, my husband and I have learned three critical things that have helped us, (and is still helping us), form a stable bridge that has allowed our children to be transparent with us about how they are feeling as we help usher them into adulthood where they will start making their own decisions for their life. "We are a family and DNA is not required." This was one important statement that we want our children to stand firm on. We are equipping our children with three major attributes that we hope they will take with them through life. As they start their own family one day, our hope is that they will utilize them to avoid conflict and create peace in their own lives.

Keep an open line of communication
Communication is key when building relationships. Clear, concise, concrete, coherent, and complete communication. We allow our children time with us to express how they really feel about being a part of this family. It's not always a pleasant conversation, but it's necessary. Over the years, because we weren't always clear about where we were as a family, we dropped the ball on what the expectations were for our children. Family meetings are a prerequisite and an ongoing requirement. Just like we attend meetings to get updates about our jobs and other things that are important to us, we invest the time in communicating with our children in order to enhance our relationships and form a united front for our home. 

We have learned that including everyone in the conversation gives us a more coherent and complete understanding about what it is we need to do better, change, or eliminate to make our family operate effectively and efficiently. Without it, we have been through chaos and dysfunction as we've worked to get out all the kinks that defeat many families because the appropriate communication is not taking place.

If it's important to them, It's important to us: 
We've learned to have compassion for our children as they have made adjustments to our family lifestyle. When we started blending our family 8 years ago, I have to admit, we didn't consider how difficult the transition was going to be for them. I'd recently divorced, it was just me and them (Megan and Morgan) and all they knew was that it was the three of us and I was all theirs. When it came to bringing Joaquin into the picture, Megan was very protective and isolated, and Morgan was clingy but sweet. They objected many times to letting him in, but as time went on, they adjusted only because they had no other option.

Megan and Morgan went through many emotions as we blended our family. Some we were aware of and could help them through, but there were many they didn't share with us and when issues arrived that bought out those emotions, Joaquin and I paid a hefty price. We were bombarded with anger, resentment, and bitterness, not just from our children, but from others who "thought" we didn't care how our children felt about this blended family. Confusion began to cause some major friction and since we were currently in the midst of the dysfunction, we had to quickly find out where we went wrong.

It was Megan who first made us realize that she and her sister didn't feel like we were truly listening to their hearts. They didn't think they had a voice in this family. They felt like we were oblivious to how they were feeling during and after the transition. Every time they tried to express their emptiness, it was blown off. When they attempted to tell us about their fears, we were too busy to listen. When they struggled with their value as little girls whose fathers were part-time or absent, we didn't have enough time to dig deeper. We showed absolutely no compassion toward the emotions our children dealt with as a direct result to our decision to be a family.

Joaquin and I asked God to guide us in our love walk. We asked for more compassion for our children, just as we have for others we served. We began directing all of our efforts to ensuring that our children were well aware of our concern for their mental, physical, and social health. We saw how our lack of compassion made Megan very defensive. We watched Morgan began to slowly crawl into her shell, fearful of being the little girl God was molding her to be. There was no way we were going to sit back and allow our children to carry those unhealthy emotions into their teenage and young adult years. We all went through counseling to open the door for reconciliation and relationship building. Joaquin and I made some drastic changes to our parenting styles in order to be great for our children when they needed us. As we worked through our differences and began to learn the needs of our children, we became more united as a family and undefeated as a team.

Be willing to make some changes 
Many people don't handle change well. My husband Joaquin is one of those people. I always found myself telling him, "Change is inevitable, get used to it," in one ear and out the other.

You have a vivid picture of what you want your life to be when you start your own family. Many pictures are drawn from the history of the family you grew up in and there are those that draw their picture a little different than the one they witnessed when they were young. When you have that picture in your mind for many years, it's difficult to adjust that image as your life progresses.

That was my husband for the first few years of our marriage. Unmovable, never changing, as he chased his new life, which was not what he'd thought it would be. He'd come into a ready-made family, unwilling to conform and inherent a new way of life, but wanted others to be who and what he wanted them to be. If you ask him today, he will admit, that was the biggest mistake he made while blending our family.
By no means was I perfect in the blending process. My unwavering love for my children came with walls that I wasn't willing to break down when Joaquin first came into our lives. I was very protective and verbal about where I was in my emotions when it came to him, my children, and my personal relationships with others. There was a lot of habits I'd adopted over the years and letting go was extremely difficult for me. I didn't want change, but it was needed. I was just afraid that I was going to fail at this family thing and I was scared. 

We learn from our own experiences and mistakes. The day Joaquin sat down with me, listened to the hearts of our children, and apologized for all the mistakes we'd made as parents, we both had a new heart and a new understanding about parenting.

Joaquin said to me later that evening, "Being a father is not about being a dictator, it's about loving my children right where they are and being willing to adjust to the changes they will make throughout their life." Joaquin is not perfect, neither am I. We both agree we still have a lot of growing to do as individuals, as a spouse, and as parents, but when we decided to start making adjustments and teaching our children the same standards, we began to evolve as a family.

Incorporating these components into our life wasn't easy, but it was worth it. We were all stubborn, wanted things our own way but not wanting the direct results. We could've chosen to be mediocre instead we chose to be great and that meant making many uncomfortable adjustments that made us doubt, overthink, and feel insufficient. Without that experience, we believe we couldn't have emerged from the brokenness of our past into the power of our purpose. #Blendedandwinning 
Collection 2019
Sale 70% Off
Title for image